May 27, 2017 show
On the Banks vs. Back Home Again
"(Back Home Again in) Indiana," which will be sung immediately before the "Lady and Gentlemen, start your engines" command Sunday (May 28) at the Indianapolis 500, is celebrating its 100th birthday this year.
Contrary to what most people assume, though, it is not Indiana's official state song.
That honor belongs to a too-seldom-heard, 120-year-old song titled "On the Banks of the Wabash, Far Away." Written in 1897 by Terre Haute native Paul Dresser, whose songs became national hits at the turn of the last century, the lyrics of "On the Banks of the Wabash" were appropriated after Dresser's death in an act our guest has described as "musical thievery."
In fact, acclaimed novelist Theodore Dreiser, the brother of Paul Dresser, was outraged and threatened for years to sue the songwriters of "(Back Home Again in) Indiana" for plagiarism.
We will explore various little-known aspects of the saga of our state song and its knock-off version, which race fans associate with Jim Nabors, the star of the "Gomer Pyle" TV series, which ran from 1964-69. He performed "(Back Home Again in) Indiana" at the Indianapolis Motor Speedway for much of a 42-year span beginning with an unexpected request just before the start of the 1972 race.
Nelson will be joined in studio by his journalism colleague and friend, Tom Davies, a reporter and editor for the Associated Press bureau in Indianapolis. Tom, a Shelbyville native, has researched and written about the two strikingly similar songs. He interviewed the biographer of Dresser (1857-1906), who died nearly penniless even though his songs - which included "My Gal Sal" as well as "On the Banks of the Wabash" - were once enormously popular across the country.
"On the Banks of the Wabash, Far Away" - a mournful, emotionally resonant song about the deaths of a sweetheart and a mother as well as an ode to the Hoosier state - was named Indiana's official song in 1913.
Its rich sensory imagery includes references to "the new-mown hay," sycamore trees, the Wabash River, moonlight and gleaming candlelight. So do the lyrics of "(Back Home Again in) Indiana," which typically is performed in a jaunty tempo that makes it more appealing for festive occasions like major sporting events.
At the 101st running of the Indianapolis 500 Sunday, "(Back Home Again in) Indiana" will be sung by operatic tenor Jim Cornelison, who is known for his crowd-pleasing renditions of the national anthem at Chicago Blackhawks hockey games. Since Jim Nabors retired from singing the tune in 2014, it has been performed at the world-famous race track in 2015 by the a cappella group Straight No Chaser (which consists of Indiana University alums) and last year by Indy resident Josh Kaufman, a champion on "The Voice" TV series.
Both Nelson and Tom have interviewed Nabors, who confided he was caught by surprise as a visiting celebrity in 1972 when Speedway owner Tony Hulman spontaneously asked him to sing it. Decades later, Nabors told Tom he scrawled some of the lyrics on his hand "so I wouldn't screw it up."
What about those lyrics and their astounding similarity to "On the Banks"? Many historians have noted that copyright law was in its infancy and unsettled when "(Back Home Again in) Indiana" was written in 1917. With music by James Hanley and words by Barton MacDonald, the song "borrows shamelessly from Dresser," noted a cover story in the fall 1997 issue of Traces of Indiana and Midwestern History, the magazine published by the Indiana Historical Society.
Although Dresser's publisher gave Hanley and Ballard permission from the publishers of "On the Banks" to use two bars of its music, our guest Tom Davies' article for the AP pointed out (with understatement) that the duo "borrowed a bit more than two bars."
According to Dresser's novelist brother Theodore Dreiser (who maintained the original German spelling of the family name), his sibling "had the business sense of a fly." Dreiser won critical acclaim for controversial novels including An American Tragedy (1925) and Sister Carrie (1900).
"(Back Home Again in) Indiana" was first performed at the Indy 500 in 1946. In the decades before a stirring rendition by Nabors became a Speedway tradition, it was sung during pre-race festivities by such visiting celebrities as Mel Torme and Dinah Shore.
"On the Banks of the Wabash" hasn't been totally neglected at the Speedway. The Purdue University Marching Band often plays the official state song early during the pre-race festivities, but it is performed without a vocalist and usually while thousands of spectators have yet to take their seats.
In its heyday, though, "On the Banks" was a national sensation. According to the Traces article, a department store in Chicago sold more than 1,400 copies of the sheet music in a single day in 1897. Within a year, the song shattered several national sales records.
Some other history facts:
History Mystery
The Indiana state song, "On the Banks of the Wabash, Far Away," mentions sycamore trees. So does "Back Home Again in Indiana."

But the sycamore is not the official state tree.

Question: What is the Indiana state tree?

The call-in number is (317) 788-3314. Please do not call in to the show until you hear Nelson pose the question on the air, and please do not try to win the prize if you have won any other prize on WICR during the last two months. You must be willing to give your name and address to our engineer and be willing to be placed on the air, and you must answer the question on the air.

The prize is a Family 4-Pack to Conner Prairie Interactive History Park, along with 4 tickets to the 1859 Balloon Voyage, courtesy of Conner Prairie, along with a pair of passes to the Indiana History Center in downtown Indianapolis, courtesy of the Indiana Historical Society.
Roadtrip: African-American New Deal in O'Bannon Woods
Guest Roadtripper and historic preservationist Maxine Brown of Corydon suggests a Roadtrip to O'Bannon Woods State Park (formerly Wyandotte Woods State Recreation Area) on the Ohio River in Harrison County. The state park was renamed in honor of the late governor Frank O'Bannon, who was born and grew up in Corydon.
All of the older structures in O'Bannon Woods were built by the all African-American 517th Company of the Civilian Conservation Corps (CCC) during the 1930s. According to Maxine Brown, "It was remarkable to have an all African-American group of men working in this area in the '30s, planting trees and building roads and structures. This was all part of President Roosevelt's New Deal."
O'Bannon Woods also has a uniquely restored, working hay-press barn, complete with oxen for power, and a pioneer farmstead. Indiana's scenic Blue River also flows through the state park.
Maxine suggests that visitors look at the floor of one of the shelter houses for a special treat. It's a carving of a Native American by the late African-American artist Lucien Garner of Corydon, also one of the 517th.
Learn more:
June 3, 2017 show - upcoming
Presidential campaigns: The controversial, the extreme and mishaps
Terre Haute native Eugene V. Debs ran for U.S. president as the Socialist Party candidate several times and captured tens of thousands of votes. During his 1920 presidential campaign, Debs was in federal prison for having spoken out against World War I.
George Wallace, Alabama's segregationist governor, also campaigned for president several times, visiting Indiana and delivering speeches with "obvious racial overtones," as a new book puts it.
And a very different kind of politician named Wallace - Henry Wallace, who served one term as FDR's controversial vice president - campaigned across Indiana in 1948 as the presidential nominee of the Progressive Party. In Evansville, more than 2,500 protesters gathered to oppose his presence.
Our show will explore the Indiana aspects of controversial presidential campaigns covering a 150-year span, including those of candidates considered to be extremists, at least during their lifetime. (Historians often note that some of Debs' positions - such as objecting to child labor and advocating a five-day workweek - would be considered mainstream today.)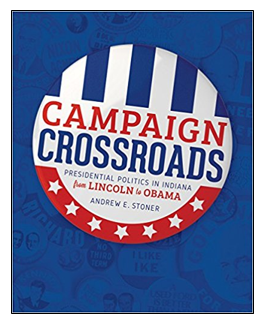 Nelson's guest will be Goshen native Andrew Stoner, the author of a brand-new book, Campaign Crossroads: Presidential Politics in Indiana from Lincoln to Obama, published by the Indiana Historical Society Press.
In addition to exploring the campaigns of controversial presidential candidates as they sought the Indiana vote, we also will highlight some little-remembered mishaps on Hoosier soil by folks running for the White House. Andrew's book, for example, notes that:
Ulysses S. Grant survived a stage collapse in Logansport.
A young man was killed by a shell in Madison during a 21-gun salute for Herbert Hoover.
And a burning cross greeted the train of Al Smith (the Democratic candidate running against Hoover in 1928) as it crossed from Ohio to Indiana. Smith was the first Catholic nominee for president of a major party.
Andrew's book is a detailed look at every presidential campaign in the state - as well as visits by presidents and vice presidents - for more than 150 years.
Our show, though, will focus on controversial candidates and the forgotten mishaps because previous Hoosier History Live programs have already explored several of the most-discussed presidential crusades. The rollicking 1940 campaign of Elwood native Wendell Willkie, the dark horse nominee of the Republican Party, was the focus of a September 2015 show with his grandson, David Willkie, as Nelson's guest. In April 2008, historian Ray Boomhower was the guest for a show about Bobby Kennedy's 1968 presidential campaign in Indiana.
A note of support
'We hope to see it broadcast far and wide'
A particularly nice letter of support came in some time ago from authors James Alexander Thom and Dark Rain Thom. We like to re-read it from time to time!
To Whom it May Concern:

Last Spring, my wife and I were interviewed by Nelson Price on his Hoosier History radio program, as authors of frontier and Native American history books. Mr. Price's program was so well prepared and conducted that we feel it should be made available to students and general audiences as widely as possible. His program is well-researched, all questions pertinent to the chosen theme, and moves along briskly. Listeners called in with questions and comments that were intelligent and relevant, a sign of an avid audience.

As historical writers, we try to overcome the public's indifference to history, to bring alive in any way we can the important lessons of the past, and are enthusiastic about programs and writings that make those lessons interesting. The Hoosier History Live program does that so well that we hope to see it broadcast far and wide over this historically significant State of Indiana. It is an excellent program, worthy of extensive distribution and strong support.

James Alexander Thom & Dark Rain Thom, authors
Bloomington, Indiana
July 14, 2011
Help keep Hoosier history alive!
Thanks for your support
No, we're not going to rattle a tin cup, but if you'd like to be among those individuals and sponsors who value the fresh perspective that Hoosier History Live offers, please consider clicking the big yellow "Donate" button above, or visit our website's "Support the show" page and make a contribution.
Or, you may make out a check to "Hoosier History Live" and mail it to:
Hoosier History Live
P.O. Box 44393
Indianapolis IN 46244-0393
Your support goes toward our ongoing expenses, including website hosting, email marketing software, audio editing, audio archiving and a long list of other items that a media team of any size must have to keep operations going.
We are a small creative/technical group that keeps our history-journalism reporter, Nelson Price, working - creating an Indiana-history archive that grows each week in heft and value. Nelson gets the interviews, and he gets the facts right.
We have produced more than 400 episodes - and counting - of original Indiana history journalism.
We are swimming against the tide, in a media landscape where ethical and objective reporting, without bias, has for the most part fallen by the wayside.
For questions about becoming an underwriting sponsor (the underwriter level includes logos on our website and newsletter and spoken credits in the live show), contact our producer, Molly Head, at molly@hoosierhistorylive.org, or (317) 927-9101, or Garry Chilluffo, our media+development director, at gchill@hoosierhistorylive.org.
Thanks again to recent individual contributors: Suzann Owen, Roz Wolen, Carol Bacon, Michael J. Quinn, Sr., Jinsie Bingham, Jennifer Smith, Theresa and David Berghoff, Stacia Gorge, Sally Cook, Margaret Smith, Jo Ellen Meyers Sharp, John and Diana Iozzo, Margaret Smith, Tom and Linda Castaldi (Fort Wayne), Peggy Hollingsworth (Connersville), Jane "Janie" Hodge, Lorraine and Richard Vavul, Kathleen Angelone, Richard Vonnegut, Jim and Marjorie Kienle, Georgia Cravey and Jim Lingenfelter, Dennis Arbuckle, Rita Kohn, Don Willsey and Judy O'Bannon, John and Lena Snethen, Juliet Emanuel (New York City), Sharon Butsch Freeland, Daniel Craig, Chuck and Cheryl Hazelrigg, Stacia Gorge, and Jill Chambers.
Please consider taking a moment to support our unique-in-the-world content. No, we are not a non-profit organization - perhaps soon; that is an ongoing discussion - so we are not in a position to offer a tax deduction. Rather, we are simply a tiny corps of Indiana creators, private citizens who each week create an original radio show, newsletter and website about our great state's history.
Your support is our only support!
Volunteers needed
Calendar itemkeeper, listening-group host opportunities
Would you be interested in placing the Hoosier History Live show topic and dates and times and ways to listen on the Bicentennial calendar and various other free community calendars across the state? This is rather detailed online weekly public relations work, but it would help get the word out about our show. If interested, please email molly@hoosierhistorylive.org, and please include your phone number.
Would you be interesting in hosting or facilitating a listening group at Central Library in Indianapolis each week? You would be responsible for being there each week during the live show and making sure a listening device is available. And generally facilitating the discussion. If interested, please email molly@hoosierhistorylive.org, and please include your phone number.
Shows, we got shows
We have more than 400 Hoosier History Live radio shows completed, as a matter of fact. And we need to get show audio onto the website, which we are doing by and by, but we sure could use some sponsorship assistance as we edit and publish audio for each archived show. Take a look at the list below and check out all the opportunities for sponsoring a slice of original Hoosier History Live content on the Web.
No one else is doing anything quite like what we're doing. We are the nation's only live call-in radio program about history. We offer a permanent and growing archive of quality content, available for sponsorship opportunities.
If you are interested in becoming a sponsor of Hoosier History Live, click here or call Molly Head at (317) 927-9101 for more info.
What people are saying about Hoosier History Live
"Hoosier History Live does more to promote Indiana history than does any single source."
Andrea Neal, Indianapolis author and educator
"Hoosier History Live is a fun and interesting way to learn about the heart and soul of Indiana. No boring classes or books here! The production team does an outstanding job."
Judy O'Bannon, civic leader and public broadcasting producer
"The folks at Hoosier History Live are able to find great stories and the people to tell them - people and stories that you seldom hear on the national air."
Dr. James H. Madison, author and Indiana University history professor
"As museums and educational institutions scramble to make their offerings more interactive, more entertaining and more 'relevant' to today's digitally obsessed consumers, Hoosier History Live seems to have mastered that formula."
Glynis Worley, rural Bartholomew County listener
"Hoosier History Live is a perfect place to consider and reconsider history ... not just what happened in the past, but what it may mean in the present. Nelson Price is the perfect host: enthusiastic, curious and knowledgeable. Tune in to Hoosier History Live and be prepared to be surprised."
James Still, playwright in residence, Indiana Repertory Theatre
"Hoosier History Live is a fantastic opportunity for people to not only learn about history, but also become a part of the conversation. Much like our mission, the telling of Indiana's stories, Nelson and his guests wonderfully connect people to the past!"
John Herbst
President and CEO, Indiana Historical Society
"The links on the Friday Hoosier History Live enewsletter are a great way to learn more about history, and from a variety of sources."
Jill Ditmire
Omni Media Specialist
"Distilling life experience into stories is an art. Telling stories of life experience for Hoosiers past and present will shape the lives of young people and enrich the lives of all in our state. Mr. Nelson Price brings alive the life experience of notable Hoosiers in Hoosier History Live."
David T. Wong, Ph.D., President
DT Wong Consulting, LLC
Former Lilly research scientist who developed Prozac
"Nelson Price, more than anyone I know, infuses joy into the pursuit of history. And that joy rings out loud and clear on the radio show, Hoosier History Live."
Marsh Davis
President, Indiana Landmarks
"No, I haven't heard of another call-in talk radio show about history. Our airwaves are now full of the worst vitriol! Give me the phone number for the show. I want to call in!"
Ken Burns, speaking at a preview of his film "The War" at Indianapolis Hebrew Congregation, April 18, 2007